With the help of ESI, you can obtain kitchen or restaurant equipment by Giles in the District of Columbia, Maryland, and Virginia.
Graham Electric of Little Rock, AR, sold the "Hol-in-One" Donut Co. to Mr. W.O. Giles in 1952. As the business expanded, it started assembling a line of chicken fryers utilizing parts from outside suppliers in 1965. In 1967, Giles Enterprises, Inc. became a legal entity. With the help of Mr. William McNeal, Mr. Giles' plan to manufacture his electric chicken fryer design from start to finish resulted in the establishment of a production facility in 1968.
The invention of Giles' ventless or recirculating systems for fryers and hoods, which was created and patented in 1988, was later made possible by the innovative vision of Mr. Giles and Mr. McNeal. As the business grew, the two founders added cutting-edge equipment to their product lineup, such as a high-efficiency gas fryer design, an electric fryer design with an integrated ventless hood, and a variety of recirculating ventilation hoods.
Contact ESI with any questions about their equipment.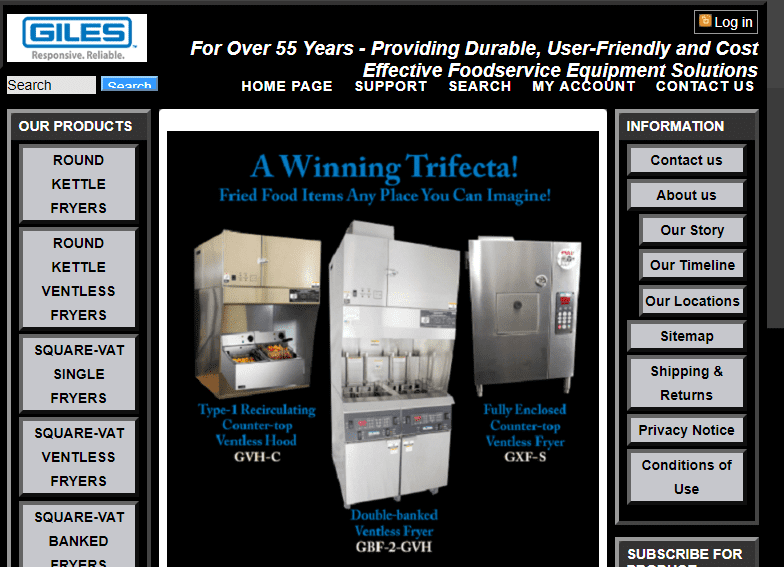 Featured Items
Electric and Gas Fryers
Recirculating Hoods
Ventless Hoods
Breading and Batter Tables
Company Website