Equipment Offered by Berner in the District of Columbia, VIRGINIA AND MARYLAND
Erling Berner introduced European technology to the US in 1956 and established Berner Industries, the foundation of today's Berner International Corporation—the country's first manufacturer of air curtains, also known as air doors. Late in the 1970s, Berner took the initiative to approach the other air curtain producers about collaborating with the Air Movement Control Association (AMCA) to create a certified system for accurately rating air curtain performance.
Product performance is essential, and at Berner, they believe clients should have the best assurance that their products work as promised. Since it has been in operation for over 50 years, Berner has built a solid reputation for customer satisfaction, innovation, aesthetics, quality, and performance. Berner is also proud to be a pioneer in developing energy-saving systems and creating comfortable, healthy environments.
Contact ESI for more information about Berner's equipment for the food service industry.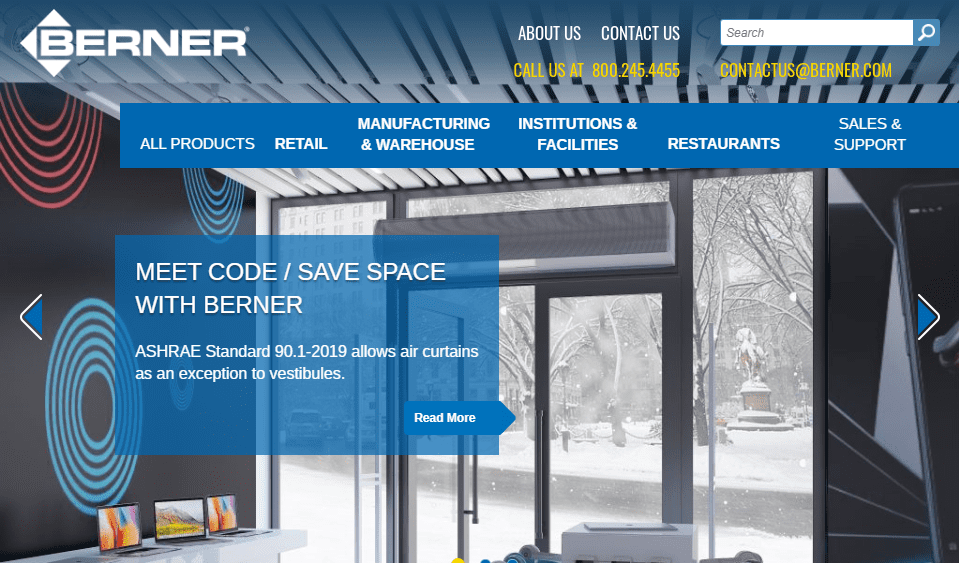 Featured Items
Architectural Air Curtains
Commercial Air Curtains
Sanitation-Certified Air Curtains
Industrial Air Curtains
Hazardous Location Air Curtains
Patio Heaters
Company Website